Veijo, a student of robotics and artificial intelligence, is a seasoned student influencer. He has been actively involved in student advocacy since his first Bachelor's degree program from 2012 to 2016.
– For me, it's essential to be part of developing the student community. That's why I'm involved in the representative council, and we also established a new student association, Kouvolan Ammattikorkeakoulun Tekniikan Opiskelijat KATO ry," says Veijo.
As a member of the representative council, students have the opportunity to influence matters at the local level, those concerning their own group, and even advocate for SAMOK's national-level policies for university of applied sciences students.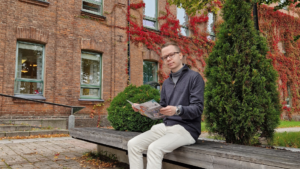 –  The presidency of the representative council in 2022 is one of the most significant positions of trust for me. Additionally, I'm a member of Xamk's RDI (Research, Development, and Innovation) leadership team, where I have seen various RDI projects and, when necessary, provided the student perspective," says Veijo.
The candidacy for the Student Union Kaakko's representative elections is now open! You can run for office until October 8th via this link or by filling out the form at our office. More information about the elections can be found on Kaakko's website. The representative elections will take place on November 8th, 2023, and the new representative council will begin its year-long term on January 1st, 2024.