Student card
The student card is both plastic and digital.
You can order it and join the Student Union from the links below:
You will get both a plastic card and the Slice.fi digital card, which you can download from the app store. Once the card order is accepted, you will receive the login codes for Slice-app in your email. You can also use the Pivo digital student card if you wish. Read more about Pivo student card
By ordering a student card you will become a member of Student Union Kaakko. We have a different student card for degree students and open UAS path, hops or diploma students. You can order a student card when you meet the following conditions:
1.
you study at
Xamk
a
Bachelor's
or
Master's
degree, or you are an
exchange
student or an
open

UAS
path, hops or diploma student
2.
you have registered as attending for the semester/academic year
Use for example in the following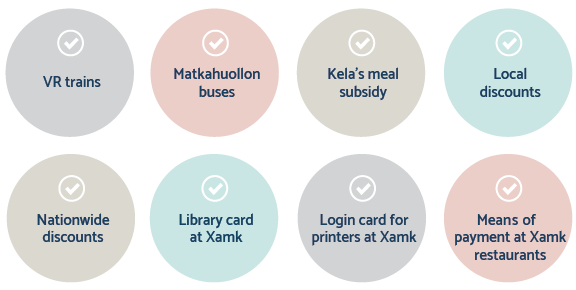 Student card for open UAS path, hops or diploma students
As an open UAS path, hops or diploma student you will receive all student benefits, except Kela's meal subsiby for students or VR and Matkahuolto travelling discounts.
Browse for student discounts
Card ordering instructions and delivery
Ordering
For the order form you'll need your student number. In Peppi in your own profile in personal settings there is the number in grey colour on the top left corner, right before the Degree Programme -information. You can check the number in Peppi a little before the semester starts.
The delivery
You will get an email when your card is ready. After that, you can collect the card from Student Union's office or you can reply to that email and ask us to send the card to your home address. Sending the card by the mail is on student's own responsibility.
Nb! Postage to home address is 5€.  If you have not paid the postage yet, you can pay it HERE
Prices
card + membership semester, 0,5 year (autumn or spring) 32 €

card + membership academic year 44 €

card + membership 2 academic years 71 €

card + membership 3,5 academic years 111,5 €

card + membership 4 academic years 125 €

card + membership 4,5 academic years 138,5 €