Katja Ääpälä, a second-year Master's student in Social Services specializing in Well-being Promotion, is the first-ever postgraduate student to join Kaakko's representative council. Until this year, the council has comprised only undergraduate students. 
– I best advocate for the issues of Master's degree students by actively participating in decision-making. I feel that I also represent all so-called adult students in general. Our interests need to be upheld as well, says Katja. 
Currently, Xamk has nearly 2,000 postgraduate students across over 30 different programs, and an increasing number of them are aged over 30. 
– I encourage all postgraduate students to consider running for office in the representative elections! It's a valuable responsibility, and attending a handful of meetings throughout the year won't significantly disrupt work or studies, Katja emphasizes.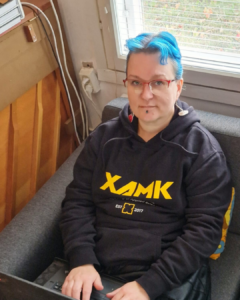 The candidacy for the Student Union Kaakko's representative elections is now open! You can run for office until October 8th via this link or by filling out the form at our office. More information about the elections can be found on Kaakko's website. The representative elections will take place on November 8th, 2023, and the new representative council will begin its year-long term on January 1st, 2024.